by Christian Lenz
Takahisa Zeze is one of the most distinguished and prolific Japanese filmmakers of the present day. Since the late 1980s, the director has realized more than sixty films including blockbusters such as the two-part mystery thriller Roku yon (64, 2016) or the slick romantic drama 8-nengoshi no Hanayome: Kiseki no Jitsuwa (The 8-Year Engagement, 2017).
But Zeze's oeuvre also includes subversive erotic film miniatures and other projects that transgress popular cinema conventions in particular ways – for example the meandering Documentary Zunō keisatsu (2009), a five-hour film about the reunion efforts of the titular proto-punk band, which can look back on a turbulent history between fan suicides and terrorist groups.
Outside his home country, though, Zeze's oeuvre is still little known. Although some of his features were part of renowned European festivals from Cannes to Berlin, his films have not gotten regular theatrical releases abroad, only a few are available as subtitled home media, and even clandestine online counter-archives remain incomplete, especially with regards to the early work.
The reasons for these gaps may lie less in the versatility of the filmography, but rather in its very coherence. In the course of his career, the obsessively working Zeze has devoted himself to a wide variety of subjects and genres, whilst at the same time his films remain mediated by directorial, motivic and geographical characteristics across the most diverse production contexts – and with a dark Buddhist worldview and a strong focus on marginal characters, they resist easy marketability and strict categories even when they are clearly oriented towards established strategies of the cultural industry. Outside the humanistic festival- and ostentatiously weird cult film with which contemporary Nippon cinema is primarily associated abroad, Zeze has developed his very own language and energy.
Takahisa Zeze was born in 1960 in the Okinawa prefecture on the island Kyūshū and studied philosophy at the prestigious Kyōto University, which counts numerous Nobel Prize winners among its graduates. While still a student, he made various 16mm and 8mm shorts and organized movie nights that included the works of radical documentarian Ogawa Shinsuke.
After graduating in 1986, Zeze briefly assisted in the long-term participatory project 1000-nen kizami no hidokei (Magino Village: A Tale, 1987) about a rice farmers' cooperative, realized by Ogawa's film collective Ogawa Pro. His full entry into the film industry, however, came that same year in another area of the Japanese cinematic landscape: the so-called pinku eiga, known internationally as pink film. This singular phenomenon refers to erotic features that are inexpensively produced by small independent studios for theatrical release and – at least until the second half of the 2000s – are predominantly shot on 35mm.
Pinku eigas are not a niche product: after Japanese cinema had lost popularity at the beginning of the 1960s, not least due to the introduction of colour television, the enormous popularity of this new, exciting type of film led the industry out of crisis. Impressed by the immense popularity of the pinkus, major studios Nikkatsu and Tōei with their Roman Porno and Pinky Violence cycles soon produced cinema series that, too, apostrophized sexual thrills in spectacular ways.
By the mid-1970s, pink films and related phenomena accounted for around fifty percent of the Japanese film production and remain part of the country's popular culture to this day. Pinku eiga also means a specific release and distribution system that ensures widespread circulation of films via cooperation between studios and specialized cinema chains but above all a certain mode of production that allows directors creative freedom as long as they meet the minimum requirement of several softcore sex scenes – about one every ten minutes – within an average running time of just over an hour. Accordingly, the pinku segment quickly became a career stepping stone and testing field for up-and-coming filmmakers who revelled in stylistic innovation and subversive political subtexts.
Takahisa Zeze first assisted on three productions by Hisayasu Satō tailored to gay audiences for the pink studio Shishi Pro and wrote screenplays for S&M Hunter director Shuji Kataoka before his own first feature-length film was released in 1989 with Kagai jugyō: Bōkō (Go to Haneda and You Will See Kids Dressed Like Pirates Ready to Attack).
This debut already demonstrated that Zeze, socialized with politically engaged protest cinema, had set out to use the artistic freedom of the production context in a special way. Within the erotic film framework, he includes the tragic love story between a member of the Korean minority and a Taiwanese prostitute and addresses, in an unprecedentedly offensive manner, the exclusion experienced by impoverished Asian migrant communities in Japan – a problem complex that was to occupy the filmmaker again and again throughout his career. Already striking is Zeze's preference for allegorically charged landscapes, the remoteness and transitory character of which – in this specific case a pile-dwelling settlement near Tokyo-Haneda airport that belongs neither to the land nor to water – correspond with the identity crises and social isolation of his characters. The impression left by these places is pointedly expressed with the English title of the playful, Godard-reference-heavy follow-up Waisetsu bōsō shūdan: Kemono (No Man's Land, 1991).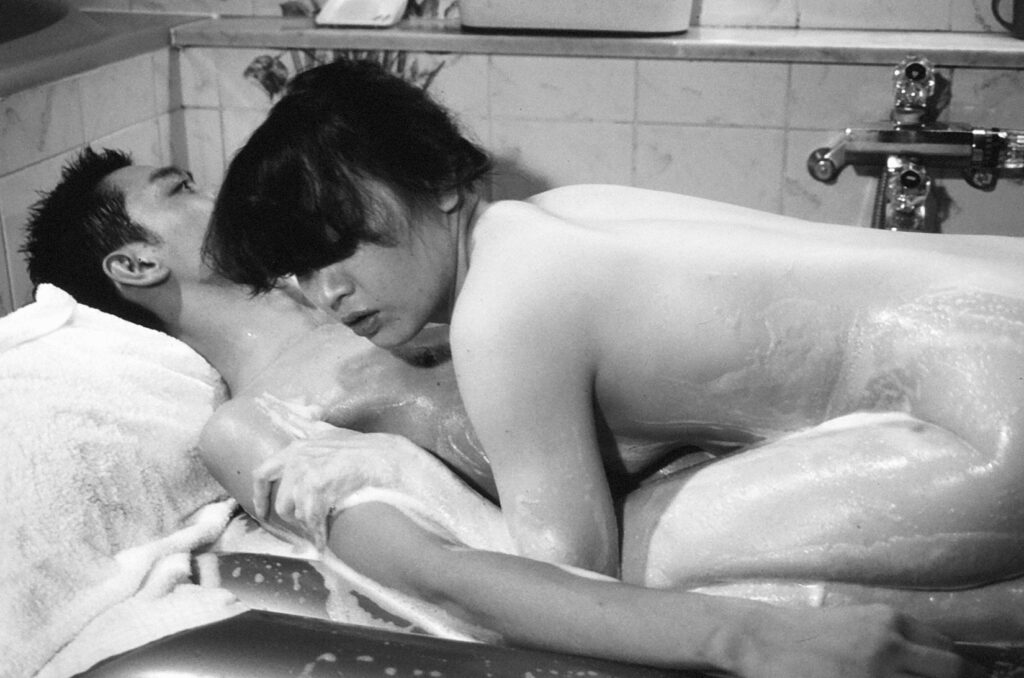 Until 1996, Zeze made sixteen erotic film productions, all for Kokuei, one of the oldest genre studios, long run by producer Keiko Sato under the male pseudonym Asakura Daisuke. The only work of this initial pinku-run to make it onto a (heavily cut) subtitled DVD release is, remarkably, Kōkyō Soap Technique 4: Monzetsu higi (The Dream of Garuda, 1994), an especially dark and transgressive work defying easy accessibility with its mythological heaviness and rape scenes. It's also the fourth part of a loose Soap Technique cycle and provides highlight moments with spectacular lotion play acrobatics.
The rest of the Kokuei productions remains largely invisible outside Japan – including many masterpieces such as the somnambulist, elegiac lesbian eiga double strike Kindan no sono: The seifuku lesbian (Amazon Garden: Uniform Lesbians, 1992) and Honban lesbian: Hazukashi taii (September's Fallen Angel, 1994) or the volcanic island amour fou Sukebe tenkomori (End of the World, 1994) about an antisocial gangster couple and their giant rooster, which is set on fire in the final act.
On the level of characters, Zeze's interest from the beginning is with the outcasts and delinquents – small-time gangsters, bomb builders and disillusioned drifters. With unusual camera angles, expressive sound design and hallucinogenic experimental sequences, his pinku contributions demonstrate an unconditional will to style and confidently oscillate between narration and number in an elliptical, compact form.
The ambitious artistic signature of his early works earned the director the label as one of the four pinku shitenno, which has been translated to both Devils and Heavenly Kings of Pink. In addition to Zeze, the term was coined for Kokuei directors Kazuhiro Sano, Hisayasu Satô and Toshiki Satô, who devoted themselves to erotic film production in a similarly wild, innovative way. Sometimes, in reference to the French cinema renewal movement, there was talk of a Pink Nouvelle Vague.
All these filmmakers started their careers towards the end of the 1980s, at a time when the heyday of pinku eiga was already over. The spread of video equipment and the resulting proliferation of hardcore pornography had caused interest in such films to wane. At the same time, the bankruptcy of major studio Nikkatsu, which had specialized almost exclusively in Roman Porno at the end, left a significant gap in the national film production, which opened up possibilities for new, young directors to place their works on the market.
The Four Devils' non-conformism was actually planned as a last creative rebellion before the looming demise of the pink film, as Zeze later recalled in an interview: "We felt that pink film was acutely threatened with extinction, so I thought if it was going to disappear anyway, they'd let us do what we wanted." However, Zeze's innovative works, in particular, launched a renaissance of pinku eiga; they were not only commercially successful, but also drew unimagined interest to the segment from both Japanese and international cinephiles. In 1993 they were the first films of this kind to be shown at the renowned Tokyo cultural institution Athénée Français and were subsequently screened in both pink and arthouse venues as well as discussed alongside canon directors such as Akira Kuroswa and Nagisa Ōshima in Japanese cinema compendia. The first foreign screenings followed rather late, starting in the mid-nineties at the Rotterdam Film Festival and the Viennale.
The success of Zeze's pinku eiga features soon allowed him to branch out into other areas. 1997 saw the release of the profoundly sombre career highlight Raigyo, once again under the Kokuei banner. With its 75-minute running time, comparatively high budget and low sex scene content, the film went beyond the boundaries of the genre and was joined in 2004 by a quasi-sister work, the equally moving and narratively stripped-down post-pinku Hada no sukima (A Gap in the Skin). Raigyo is named after an uneatable snakehead fish that carries parasitic worms and was originally introduced to Japan from Taiwan. In the opening images of the film, an angler burns exemplars of the species deemed worthless by him; in Hada no sukima the animals are effectively crushed with a stone – both movies use such images to set the mood for their unconditionally hopeless stories about broken knife murderers who ultimately go down the drain themselves.
It was also in 1997 that the first distinctly non-Pinku feature was released. Told, like many Zeze films, from a decidedly female perspective, the ghostly Kokkuri-san anticipates motifs from the J-horror hits Ringu (1998) and Juon (2002), but aside from traditional shock moments and drastic effects, it primarily impresses as a quiet trauma-recovery and lesbian love drama. Moreover, it sympathetically shares Raigyo's deep-seated pessimism and continues the director's artistically ambitious style with a complex flashback structure.
Fantastic works that approach genre material in an original way remain a constant in Takahisa Zeze's oeuvre: the comedic Science Fiction feature SF Whipped Cream (2002) expands the story of aliens stranded on Earth into an anti-racist parable, a motif that is somewhat inverted in the vampire drama Moon Child (2003). Set as a vehicle for pop stars HYDE and Gackt, this dystopia tells of illegal Japanese-born street kids in a trans-Asian future metropolis, while also pointing back to Zeze's beginnings in the film industry with implied homosexual desire between the two protagonists. Over the years, star-studded, big-budget productions followed, which made Zeze known to a mass audience in Japan, including the epidemic thriller Kansen rettô (Pandemic, 2009) and several romance movies. The biggest hit, the illness drama 8-nengoshi no Hanayome: Kiseki no Jitsuwa (The 8-Year Engagement, 2017), admittedly leaves its own mark in rather sparse ways with some horror-movie-like visualizations of epileptic conditions.
Zeze's filmography, however, does not follow a clear chronology of phases. Time and again, the director is drawn back to his pinku eiga beginnings, most recently with the extravagant mystery ballad Maria no chibusa (Maria's Breasts, 2014) about a prostitute with clairvoyant powers or already in 2001 with the provocative Tōkyō X Erotica, which integrates media-reflexive episodes and references to the terrorist attacks of the Aum sect into its speculative erotic film setting (and which, despite its particularly non-conformist artistic signature of cinéma vérité-like interludes and raw, unstable DV images, is the only Zeze work ever shown on German television – 2011 at night on arte).
The consistency with which Zeze has succeeded in various established contexts also allows him increasingly often to produce independently realized, personal projects that subvert the narrative requirements of mainstream cinema and generic expectations. Highlights include the rarely screened, eccentric anthology film Nariyuki na tamashii (Random Lives, 2016), which shows the director in career-best form with a superbly unhinged violent montage sequence, as well as the 278-minute, deeply moving ensemble revenge tale Hevunzu sutôr (Heaven's Story, 2010) and the three-hour Kiku to Guillotine. Onnazumō to Anarchist (The Chrysanthemum and the Guillotine, 2018) – a high-energy historical epic in which the stories of a group of female sumo wrestlers and the anarchist terror gang Guillotine Society culminate in a topos ever-present in Zeze's work, the desperate rebellion against the determination of life by fate and tradition.
Another so far barely discussed part of Zeze's oeuvre is his documentary works, which are mainly produced for Japanese television and are kept under lock and key there. In recent years, Zeze's cooperation with TV stations has expanded to series projects, including a remake/variation of the successful US program Cold Case.
At first glance, it seems reasonable to assume that Zeze's increasing forays into established entertainment areas have resulted in a loss of idiosyncrasy for his work, or at least in a clear differentiation between more commercial output on the one hand and artistically accomplished passion projects on the other.
This line of demarcation is also indicated by the fact that for years market-dominant Japanese film studios have implemented a so-called production committee system. Within this system, the final state of blockbusters is mediated between various contractual partners and, above all, with regards to the broadest possible distribution in the context of transmedia franchise projects.
However, this idea of a clear division in the filmography does not hold up to a closer examination of Zeze's oeuvre as a whole.
Characters between the worlds populate Zeze's fantastic genre contributions – from the protagonist in Kokkuri-san, who, unnoticed by her schoolmates, leads a parallel existence as a radio star and seeks contact with the ghost sphere via a witch board, to mutant teenagers with animalistic abilities rebelling against the Japanese authorities in the astonishingly sinister youth novel adaptation (and X Men-Variation) Sutoreiyâzu kuronikuru (Strayer's Chronicle, 2015), which never completely dispels its antagonist's frustration with the human race (that ultimately leads to plans of mass extinction).
Zeze's most recent work to date, the maternal drama Ashita no Shokutaku (Tomorrow's Dining Table, 2021), a lavishly produced and classically directed literature adaptation for the Kadokawa media group with TV stars in the leading roles, takes an empathetic look at a child murderer, features a 10-year-old's assault on his dementia-stricken grandma and thus demonstrates that even the centre of the Japanese mainstream may be a no man's land, and terror and transgression can find their place in conventional cinematic forms.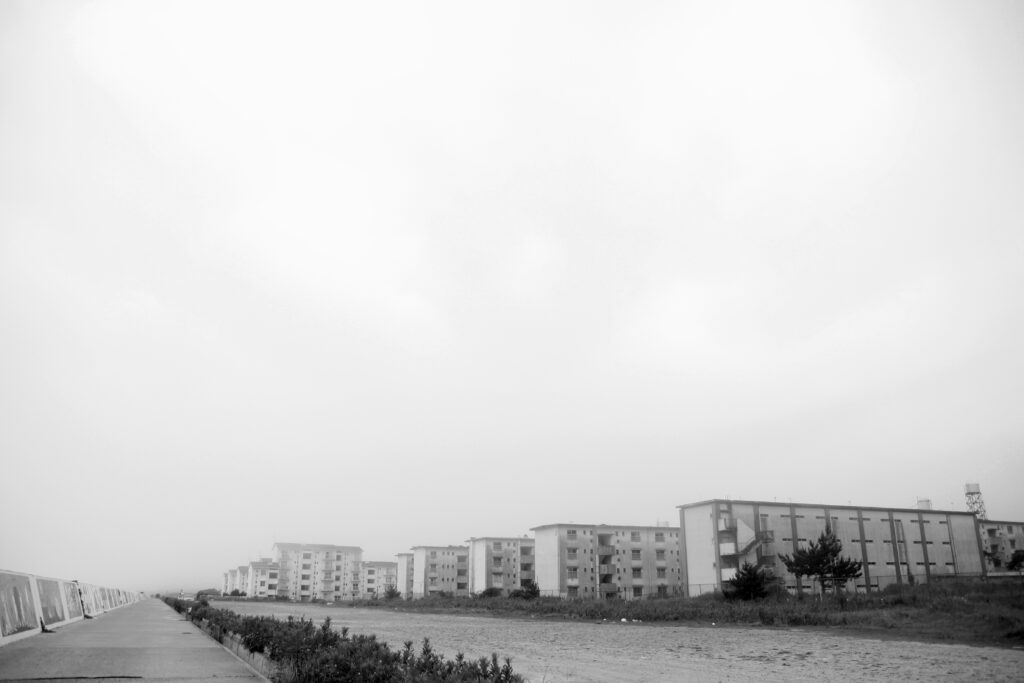 It is often transitory, remote places where the unusual stories of Zeze's marginal characters take place. In addition to the aforementioned pinku eiga debut, the pile-dwelling villages near Tokyo-Haneda Airport, home to the urban poor, are also the setting for the TV documentary The Memory of Water: Private Landscapes of Haneda (1996) and the lively mix-up comedy Furaingu rabittsu (Flying Rabbits, 2008) about a team of female basketball players. The wishes and hopes of Zeze's protagonists often cannot be realized within the boundaries of this social and geographical periphery. Therefore, even his more realistically oriented films frequently end in dream and mystical sequences, which, through sometimes more, sometimes less clear elaborations of the transcendental, mark an unbridgeable gap between the aspirations of these borderline figures and the limiting milieus in which they are planted.
The persistence with which Zeze tells Japanese history from the social margins – from the late Taishō era in Kiku to Guillotine Onnazumō to Anarchist to the near future in the Tōkyō X Erotica – becomes especially striking when one follows the director's career across various production contexts. The horizon of a multi-voiced, non-linear counter-history emerges that focuses on those perspectives that are otherwise situated beyond public perception. It is fitting that Zeze often takes the material for his films from short reports on crimes and misfortunes in tabloid newspapers, in other words, assembles his alternative history from the supposedly obsolete and ephemeral.
Even those works of him that react very directly to their time of origin are impregnated with far-reaching historical traces: Ruins from the prosperous Shōwa era permeate the suburban settings of the early pinku eiga works, which were released at a time when the disorientation and material hardship of their characters had long since reached broad sections of the population due to the implosion of the Japanese bubble economy. Strikingly enough, the showdowns of both Hevunzu sutôr, realized independently with minimal resources, and the capital-intensive Warner Bros. production Sutoreiyâzu kuronikuru take place in the skeletal remains of a Danchi high-rise building, once emblematic of the Japanese economic boom in the 1960s.
Zeze's unconventional mode of referencing historical layers in the cinematic medium corresponds with the unusual course of his directing career: His border crossings between different genres and sujets overlap in an alternative film history, with which diverse manifestations of Japanese cinema in the last thirty years come to the fore, as well as possibilities of deviation in supposedly consolidated production contexts.
(Translated into English from the original German text.)
***
1st picture: The Dream Of Garuda (Kôkyû sôpu tekunikku 4: Monzetsu higi, 1994) @ Kokuei/Stance Company
2nd picture: Heaven's Story (Hevunzu sutôrî, 2010) @ Freestone Productions/Stance Company